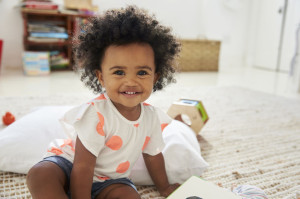 Moving into a new home? If you have children, it's a great time to make sure your home is safe for the smallest members of your household. Every 30 minutes, a child in the United States is injured as a result of a TV or furniture tip-over incident. Most of those injuries happen at home, involving children younger than 7 years of age.
How do these injuries happen? Generally, they come from climbing. Children spot a toy atop a dresser or bookshelf and decide to monkey their way to it. The unfortunate result is that the child's weight tips the furniture over. When it comes to television sets – which constitute about half of all injuries – the problem usually comes from oversized screens toppling over after a child grabs it.
What can you do to keep your children safe? Here are tips from the U.S. Consumer Product Safety Commission:
Secure your television.

 
Televisions that are not wall mounted should be correctly anchored so they won't move or topple over. Expect that a toddler or small child will try to push or pull the television.
Read all instructions.
Follow all manufacturer instructions to secure TVs and furniture. Purchase quality hardware and equipment needed to secure heavy items.
Secure top-heavy furniture.
Bookshelves, dressers and other types of furniture are prone to tip-overs. Secure furniture to the wall. You must correctly secure restraints to both the furniture and a stud in the wall. Pay close attention to instructions; incorrect installation can fail to prevent a tip over.
Remove tempting objects.

 
Remove items that might tempt kids to climb, such as toys and remote controls, from the top of the TV and furniture. Store heavy objects on lower shelves or in lower drawers. When securing furniture, pay close attention to anything in your child's room or where they spend most of their time.